Choosing the right range hood for your kitchen isn't easy because there are simply so many beautiful shapes and options. This guide will quickly explain the eight most popular range hood shapes we sell at La Bastille. To make it even simpler, we've included photos of some of the cast metal range hoods we've created in these shapess over the years. Let's go!
Sloped Shaped
Sloped range hoods are definitely the most popular style and it's easy to see why, they're tasteful and work well in most kitchens. They have straight sides and are curved on the front. Like all of our range hoods, we offer sloped range hoods in cast zinc, cast copper and cast brass. Sloped range hoods, like our semi-customizable Shannon, are available with dozens of decorative options like: straps, rivets, various trims and medallions.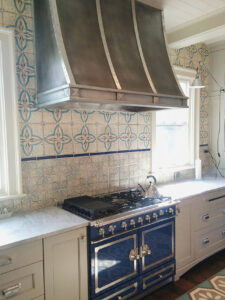 Barrel Shaped
Barrel shaped metal range hoods are our second most popular style. They have flat sides and curved outward on the front. Barrel shaped range hoods are a great option, especially when a client has lower ceilings. They tend to look best with straps and rivets, which add depth and dimension to the shape.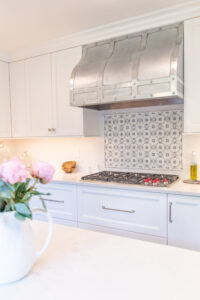 Bell Shaped
Bell shaped metal range hoods are another great option for those who have a lower ceiling height. They curve outward and then inward on all three sides, and look great with a decorative crown at the top and an apron at the bottom.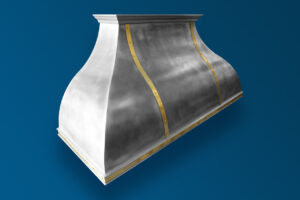 Curved Shaped
Curved metal range hoods simply curve on both sides and the front. Our Christina and Lucianna semi-customizable hoods are great examples of curved range hoods. You get to choose your size, metal, pattern and your apron. Your dedicated La Bastille Designer will work with you all the way.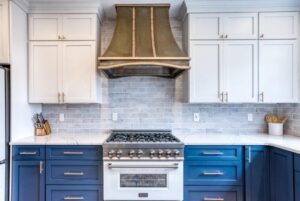 Baroque Shaped
Baroque style metal range hoods are similar to bell but have a break in the middle. Because of the break, this shape is more decorative than many of the others and tends to look best in kitchens with taller ceilings.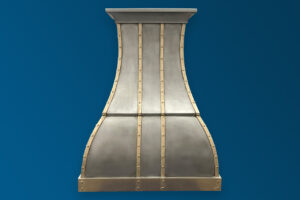 Chamfered Shaped Metal Range Hood 
Chamfered shaped range hoods simply have a chamfer on the front corners. Because of the chamfer, this metal range hood tends to feel a bit more refined and feminine. Chamfered metal range hoods can be gussied up with a decorative crown and apron or simplified by using flat trim details. La Bastille's dedicated design team can help you decide what will look and work best in your kitchen.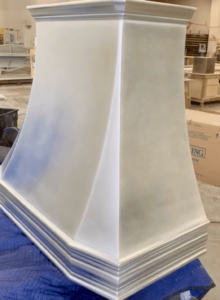 Chimney Shaped Metal Range Hood
Chimney shaped range hoods are very interesting because they aren't defined by the shape of the lower apportion, but by the fact that they have a chimney on top. They tend to be used in kitchens with very high ceilings and for clients that want to vent through their ceiling, rather than through their wall. Because they have a chimney, they can be easily hung over an island and become the centerpiece of the kitchen.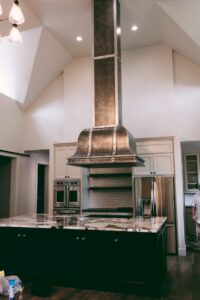 Box Shaped Metal Range Hood
The simplest of all of the styles, the box shaped metal range hood, has become very popular in 2022. While sloped, barrel and curved have always been popular options, the simplicity of the box shape is back in a big way. Box shaped range hoods can be extremely ornate, like you'll see in the photo below, or completely unadorned with a focus on the unique material choice.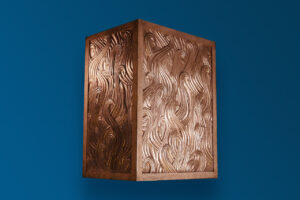 If you're having a hard time choosing the right metal range hood for your home, don't worry. Our team is here to help. Our Designers have years of experience and will create a 3D rendering of your custom, or semi-custom range hood so you can be certain it's right for your kitchen. You are never limited based on region or country because we ship our hoods internationally. If you have any questions, please feel free to schedule a virtual appointment with us today.