Range hoods are an important part of the overall kitchen aesthetic. The cold, harsh industrial style range hoods are out and warmer, sculptural range hoods are here to stay. In this article, we are going to take a closer look at modern range hoods and see what's trending in 2023. 
Modern Range Hood Shapes
There are dozens of range hood shapes to choose from but we are seeing a trend in 2023. The most popular shapes we are currently seeing are:
Box Shaped

Box shaped range hoods are coming back strong. One of the most modern range hood trends we're seeing, is the box shape with a bullnose detail. 

Angled Box Shaped

Angled box shaped range hoods are another clean, modern shape. They're a great option for those who want a simple shape that is extremely customizable. An angle box shaped range hood can be dressed up or down with straps, rivets and mixing materials.

Curved Shaped

Curved shaped range hoods have been popular for several years and that doesn't seem to be changing anytime soon. The curve is such a beautiful detail and works well in most kitchen designs. It looks gorgeous as a standalone piece and also anchored between cabinets.
Modern Range Hood Materials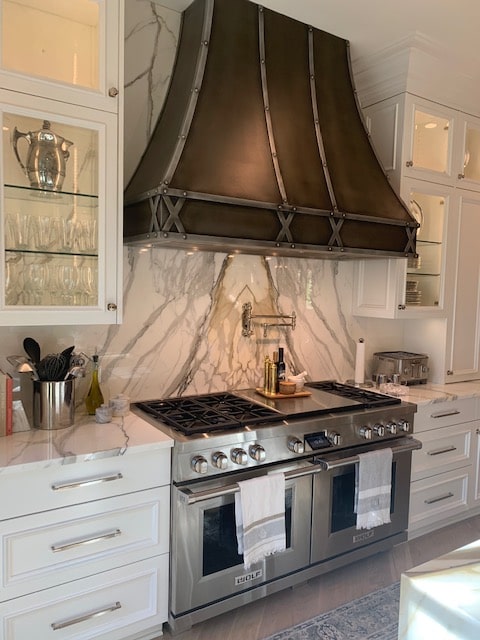 Just as important as choosing the right shape range hood is choosing the right material. Range hood materials have progressed from stainless steel to so many warm, inviting materials like:
Wood

There are various species of wood, like oak, that can be stained to create gorgeous range hoods.

Cast Metals

Cast metals, like zinc, pewter, brass and copper, make for gorgeous modern range hoods.Unlike sheet metal, cast metals are soft to the touch and have a warmer overall appearance. 

Stone

Stone carved range hoods can be stunning in the right setting. There are lots of color and finish options available. 
Mixing Materials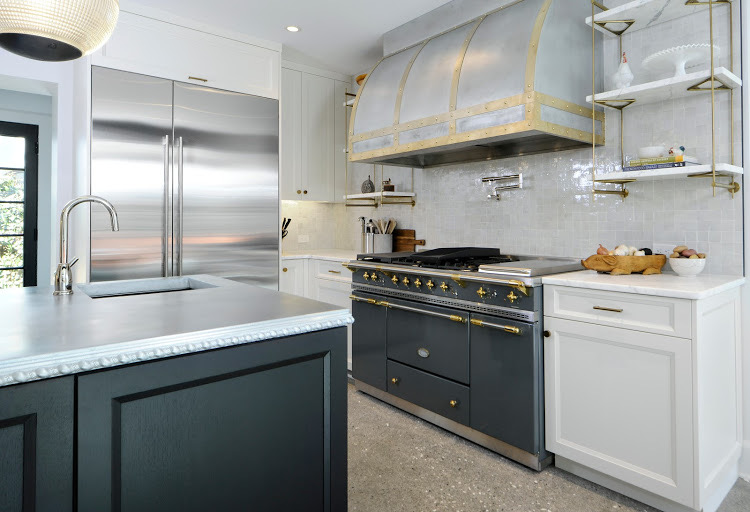 When it comes to modern range hoods, one of the biggest trends is mixing materials. Popular material combinations include: 
Cast zinc body with brass straps

Mixing metals has become increasingly popular the past couple of years. The most popular combination we're seeing is cast zinc with cast brass straps. 

Cast zinc body with copper straps

Copper range hoods are extremely popular at the moment. Copper straps on a zinc body or zinc straps on a copper body is a beautiful and modern way to mix materials.

Combining materials

Another popular trend is mixing wood with metals, or stone and wood. These material combinations can create stunning modern range hoods.
Where to Buy Modern Range Hoods?
At La Bastille we specialize in cast metal range hoods. We have designed and fabricated hundreds of variations over the years and are masters of our craft. Our inhouse design team can make your vision a reality.
We only fabricate with the highest quality alloys: cast zinc, copper, brass and pewter. We offer fully custom range hoods and also semi-customizable. If you have any inspiration images and some rough dimensions, we'd love to send you a complimentary quote. 
Please reach out for more information here.