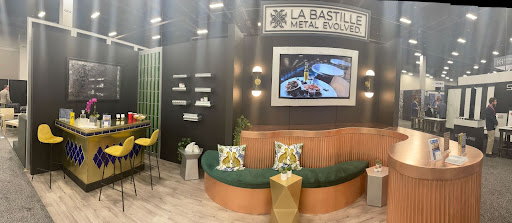 Huge Success for La Bastille at HD Expo 2022
Our first time at HD Expo did not disappoint. Overall the show had a great energy and a lot of fun was had in the Bastille Lounge.
Thank you to those who visited our booth and checked out our cast copper seating arrangement and our custom cast brass bar top featuring a new product collaboration with the renowned Craven Dunnill Jackfield, the Revolution Collection. While the exclusive bar top edge profiles and striking wall panels don't officially launch until Fall 2022, we were too excited to keep them a secret any longer!
We also launched a whopping seven Bastille Collection Accent Tables, available in cast zinc, cast copper and cast brass. The accent tables, which were also a collaboration with Italian Furniture Designer, Antonio Larosa, are truly a versatile heirloom piece perfect for a residential or commercial setting.
We were also thrilled to get to meet some friends and partners at HD. Our President and CEO, Katiana Chapman, was interviewed by one of those partners, Network Next Gen. In the video Katiana talks about what we showcased in our booth this year, our new products and what our clients can expect when working with us.