The dining table is truly a staple when it comes to home furnishings. Not only does your table set the mood for your dining room, it also serves as an anchor for family gatherings. A custom metal table top is a great option because you get to choose your size, shape and finishes.
In this article we share: popular table top shapes, table sizing and where to buy your custom metal table top.
Custom Metal Dining Table vs. Off-the-Shelf Dining Table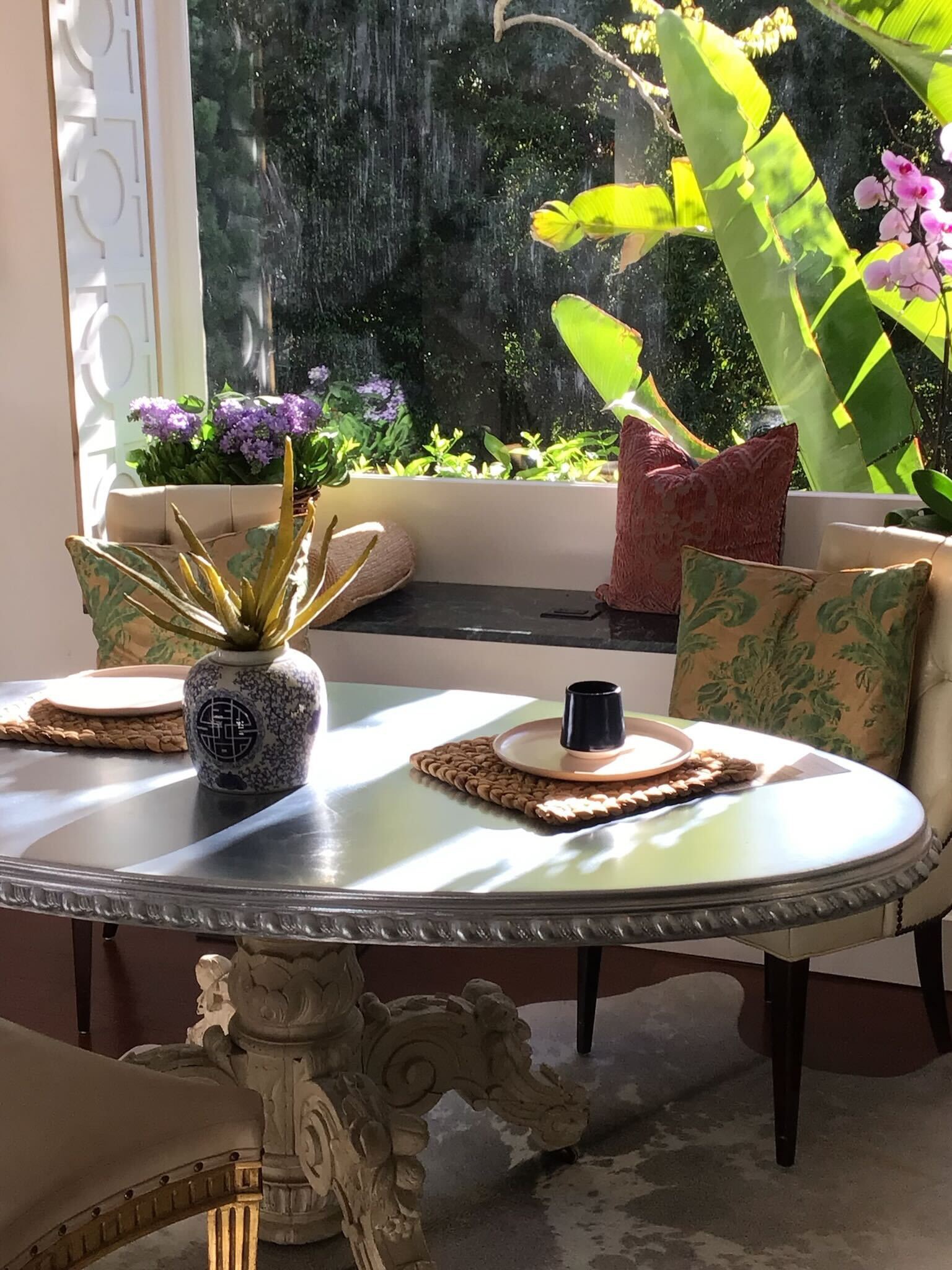 When people decide to purchase a new dining table, they often start searching for one online or in store. These off-the-shelf options are great for people who need something quickly and efficiently. However, if you have a few weeks and want something unique, there is a better way- custom.
There's a reason why Interior Designers often design their clients' tables rather than buy them off-the-shelf. The perks to going with a custom metal dining table are: you get to choose your size and shape, so you know it will suit your needs and you also get to choose your edge and finishes, so you know that it will fit your aesthetic. The end result is a one-of-a-kind piece that your family and guests can enjoy for a lifetime.
Dining Table Shapes
When it comes to custom dining tables, there is no limit to what can be created, however, the most popular table shapes are: round, square, rectangular, pill, oval and octagonal.

Rectangular
Rectangular metal table tops work well because the dining room is also usually a rectangle shape. Depending on the size, you can sit many people. Rectangular shaped tables are classic and timeless.
Pill Shape
Pill shaped tables, or racetrack as some people call them, are a fairly common shape because like rectangular and oval, they can seat a lot of people comfortably. They're a great option if you're wanting to pull in some soft shapes.
Curved Edges
Curved edge tables feel a bit traditional and luxe. They're less feminine in style than oval but still offer a certain softness.
Oval Shape
Oval shape dining tables, or elipse as some people say, feel more feminine than some of the other shapes, like rectangular. They don't have corners making them a good option for families with young children.
Square
Square is a common shape for small dining rooms or breakfast areas. Square shaped dining tables are a safe bet as they are comfortable for dining and usually allow people their own space.
Round
Large round tables require a lot of space to sit people comfortably, so you often see them in events halls more so than residences.  Small round dining tables work well in breakfast areas or square shaped rooms.
Octagonal
Octagonal metal table tops are not as common as the others. Like a large round table, they can require a lot of space. In the right setting, octagonal tables can be a unique option.
Dining Table Sizes
When choosing your dining table size, you'll want to consider the following three factors:
1. How large is the room?
Start by measuing your dining room, or the room where the table will live. You want to make sure you leave enough space for people to pass by the table, with the chairs pulled out, so that people can walk around the room while people are eating. The standard allotted space to leave on all sides of the table is 3', but you'll want to increase this if your dining chairs are very deep.
2. What size dining room chairs will you be using?
Measure you chairs to ensure they have enough room to slide in and out with space on either side. If your dining chairs are very important to you, you will definietly want to consider them while designing your custom table top.
3. How many people will you be serving at your table?
Comfortably accommodating your family and guests is key. If you're a famiy of six but often host dinner parties, you might want to factor in your guests as well. Just keep in mind the importance of the room size.
You'll want to allow at least 24″ of space per person. This will allow your guests ample arm room and enough space to comfortably eat dinner. Increase this number if your chairs are wider than 16-18″. For example, if your chairs are 24″ wide, your guests will need at least 30″ of space to comfortably dine.
In the infographic below, you will see some examples of table top sizes with the numbe of guests that size can comfortably seat.

Where to Buy a Custom Metal Dining Table
At La Bastille, we specialize in high quality custom metal table tops. Our in-house design team can help you determine the best size and shape dining table to meet your particular needs.
We will design and fabricate your one-of-a-kind metal table top and ship it worldwide. With five cast metals: zinc, pewter, brass, bronze and copper, and over 80 edge profiles to choose from, the possibilities are truly endless! Reach out today for a complimentary custom metal table top quote.
If you found this article helpful, you might also enjoy: Do Metal Countertops Add Value To Your Home?