The History of Cast Zinc Bar Tops and Cast Pewter Countertops
La Bastille is a global leader in architectural metal castings. We specialize in "living metals". La Bastille designs and builds custom cast zinc bar tops, countertops, range hoods and furnishings with depth and artistry. Each project is designed and fabricated with a deep respect for the history and tradition from which our craft has evolved. Our designs modernize centuries old craftsmanship by incorporating organic shapes, mixed metals and dimensional patterns to create cast pewter countertops.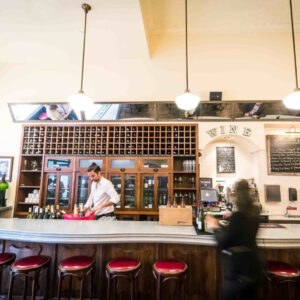 19th Century Zinc Countertops
Parisian bar tops of today are made of cast pewter but in the first half of the 19th century, the majority of bar tops in French bistros Paris were made of rolled zinc. The original zinc bar tops were curved and echoed the trims, curb members and cornices normally featured on zinc roofs.
A French colloquialism for a bistro, café, or bar is "le zinc". This is because of the classic cast zinc countertops that were common in pre-World War II France. Zinc countertops in cafés go back centuries in France. Zinc bar tops were so common that there were even special soaps for cleaning "le zinc" followed by applying a coating of beeswax to protect its patina.
World War II
Many cast zinc countertops in French cafés were confiscated during World War II by occupying forces. The metal was recycled into the Nazi war industries but you can still find vintage zinc counters in France today. It has even become fashionable for contemporary bistros looking for a historic ambiance to have brand-new "le zinc" countertops fabricated. 
We've created dozens of cast zinc bar tops and cast pewter countertops for French bistros and wine bars around the world. While we may deliver a certain modern edge, we still practice many of the same methods used by Artisans centuries ago. This ensures each piece endures several lifetimes of patisseries and pinot noir.