Caring for your cast zinc bar top may seem daunting, but in reality, living metals require very little maintenance and are antimicrobial by nature. The surface of the zinc evolves in response to its environment. This evolution can be controlled based on the care it receives and the elements it comes into contact with. Below I will explain three ways to protect your cast zinc bar top. 
1.
Do not leave acidic materials sitting on zinc bartops.
Do not leave acidic foods or liquids sitting on the counter top. The acid will remove the patina, causing it to look like a bleached spot. Lemons, limes, oranges, tomatoes are great in a cocktail, but if left for long periods of time will degrade the finish.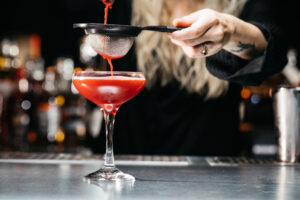 2. Use gentle cleaners on the zinc bar top.
Avoid harsh cleaners. While the metal itself is strong and durable and will last many lifetimes, your metal bar top has been through a process to achieve its particular aesthetic and that desired appearance is what you want to protect. Harsh cleaners like bleach and ammonia can break down sealers and finishes over time, leaving your zinc bar top looking spotty. We recommend a damp cloth with just water, for every day wiping down. If a cleaner is needed, something less harsh such as simple green or plain soapy water.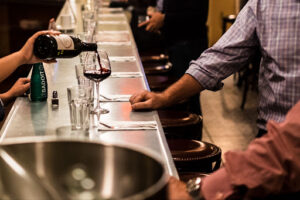 3. Do not use rubber mates on a zinc bartop.
Rubber mats hold moisture on the surface of the metal. The constant presence of moisture on the surface of the cast zinc bartop changes the metals environment in that particular area, causing a discoloration that will stand out on your zinc bar top. Also, any use of them does void La Bastille's warranty. Instead, we recommend drink rails.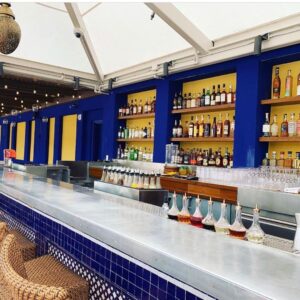 Caring for your cast zinc bar top is as simple as keep it clear of anything that applies moisture and when it needs cleaning start with the least possible stringent cleaning solutions.